Dani and I went in the back yard and played with the dogs for a little while last night. Rich and the boys had gone to the car wash to wash the carpets in daddy's car and Ellie was sleeping. So I took advantage and took a few pictures of the dogs. I didn't get any great ones of Lady, she is to quick but here are a few that I took. I took some pictures of Rich's car too! LOL He told me he was going to clean it really good! Little did I know.........



Yes those are his seats, the panels, and his carpets!


The naked car!



My three oldest in what used to be the back seat!


You have to admit that they are cute!

Dolly gave me this look when I playfully growled at her!




Dani gave Jersey some water, then climbed up into the play house with us and before I could stop her she took a drink! Which she promptly spat out and complained about the hair in her mouth! I told her it was her own fault for sharing a cup with the dog! Jersey didn't understand what the fuss was all about!

the trampoline with the kids!

I am wondering if Jersey worked for my
This is the best shot of Lady that I got and for some reason it can't get it to post the right direction!
So annoying!

Reminiscing.......... Oh how cute they were!
This is Topher and Lady when we first got Lady,
before Dani was born.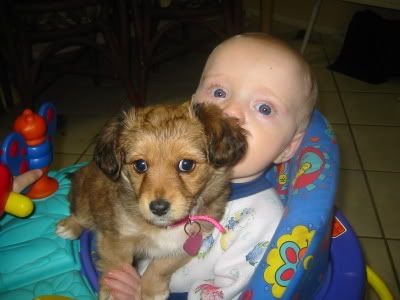 This was a few months later. He had hair you just can't tell! LOL He has always been my super blondie! You can't even tell that it is the same dog! She changed a lot!